Cheats/Tweaks
New Mtn Nigeria 500Mb Daily Free Browsing Via Toco Tunnel Vpn
Recently we have shared mtn nigeria 500mb e-learning daily free browsing cheat via http injector, napsternetv, hatunnel & fast v2ray vpn settings which were blocked since then, so now I'm here with another alternative way to follow and make this mtn nigeria 500mb e-learning data to work, to surf your internet browsing, chating, downloading and more.
This time you do not need to download any file to add the free browsing settings, you just only need to update the config file inside the app which is another advantage. Also this free browsing is working for any mtn nigeria simcard you just need to follow my instructions and activate it on your mobile phone,
so without me discussing more, let me get you into it.
Requirements:-
• Toco Tunnel Vpn Apk Latest Version, Download in Playstore
• Stable 3g or 4g network
• required android version 5.0 to above.
How to set up the mtn nigeria 500mb daily free browsing
~ After installing the latest version of Toco Tunnel Vpn, launch the app from the app navigation menu and tap on the "Update Tweaks", after successfully updating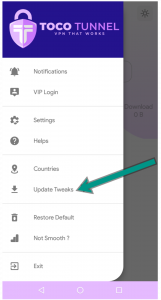 ~ Next return back to the app menu , and change Random to Mtn 500MB Daily 1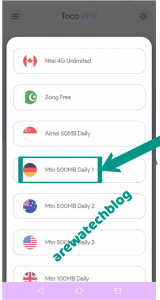 ~ Change Direct Internet to Mtn 500MB Daily 1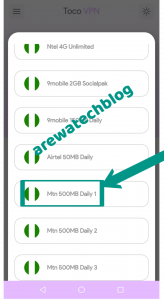 ~ Next Tap on the Connect button and wait for few seconds for it to get connected.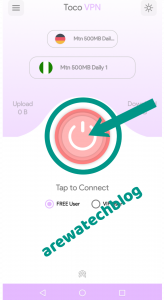 Note:
1. If the VPN did not get connected then try to put your phone in Airplane mode, and then turn on the network by removing your phone out of the Airplane mode.
2. If it didn't get connected you can change the servers from Mtn 500MB Daily 1 to either Mtn 500MB Daily 2 or Mtn 500MB Daily 3 and try to connect the app again.
Conclusion
You can enjoy this mtn 500mb daily free browsing via toco tunnel vpn on any Mtn sim card, and also you will receive a message telling you that you are giving free mtn 500mb daily e-learning data, that's all guys thank you for your time.